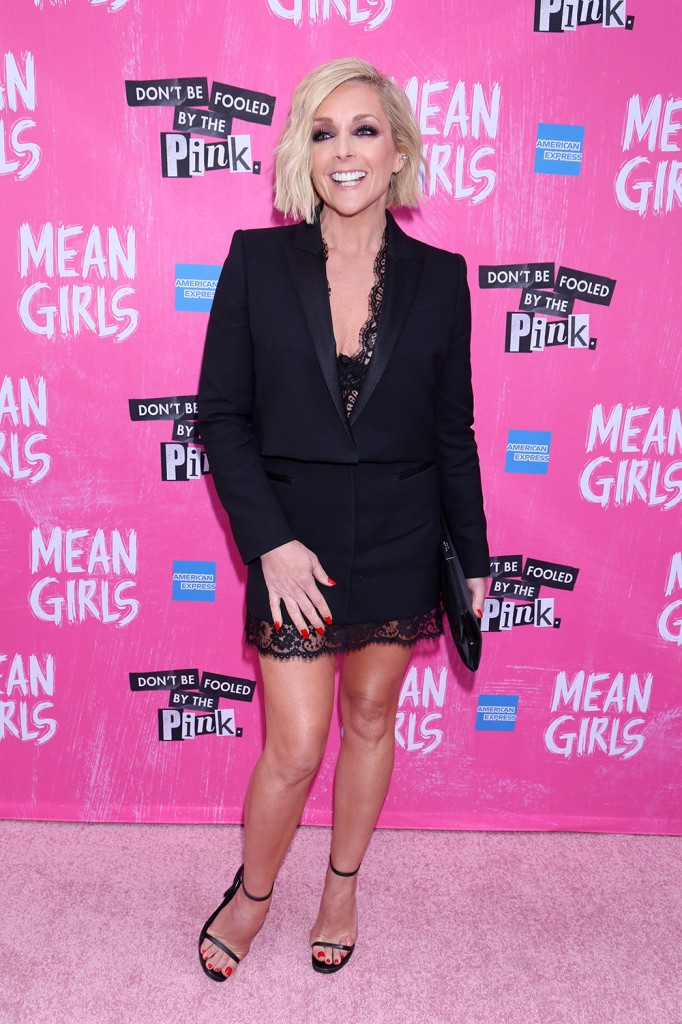 Embed from Getty Images
When I saw this story pop up, all I could think was, "Who doesn't?" The lovely Jane Krakowski, who reminded me that I still need to catch up on a season and a half of The Unbreakable Kimmy Schmidt, appeared on Late Night with Seth Meyers on Monday night to discuss the end of the series and the Tonys. Jane told Seth that her 7-year-old son was about to graduate from first grade and shared the tale of one of his recent playdates.
Jane's son took part in some after school fun with a few close girlfriends. One of the moms sent her a video of the kids putting on an impromptu fashion show. The little girls came out in full princess regalia and then her son sashayed down the imaginary runway in his own princess dress, using purple marker as eye shadow and contour. Jane recalled that "he gave his best walk and then he went 'fashion!'" Jane later asked him, "Where did you learn this? What was your inspiration?" Her son quickly responded "It's because I watch RuPaul's Drag Race."
The 49-year-old actress confessed, "For a moment, I questioned my parenting," but then thought, "No, this is amazing. He picked up some good tips…I'm proud that my son knows RuPaul's Drag Race, and could compete!" But did he have to lip sync for his life? I need to know. At least Jane's son can work on his contouring and "fashion!" as it was announced on Wednesday that Drag Race was picked up for an 11th season. (And in case anyone cares, as far as season 10, I am #TeamKameron all the way – and not only because he is one good looking man.)
Jane also talked a little about Sunday night's Tonys. She won a Tony in 2003 for her role in Nine. Jane, who made her Broadway debut in 1987 in the infamous roller skating musical Starlight Express, told Seth that the awards ceremony is "the Super Bowl for my people." She noted that "It was the first time I actually watched an awards show with my son," telling Seth, "We were having this hilarious time making commentary and rooting for our friends to win." Of course, when Jane said "friends," she meant Tina Fey, who was robbed for Mean Girls. Jane added, "I'm trying to get my son as addicted to it as I am," recalling her youth recreating the musical numbers from the ceremony in her living room. I think I have found my theater nerd twin.
I love that Jane has no problem letting her son be whoever he wants to be. That's really awesome. Jane needs to be a judge on the show next season. Make it happen, Ru.
Embed from Getty Images
Photos: WENN.com, Getty Images
Source:: Cele|bitchy
(Visited 3 times, 1 visits today)