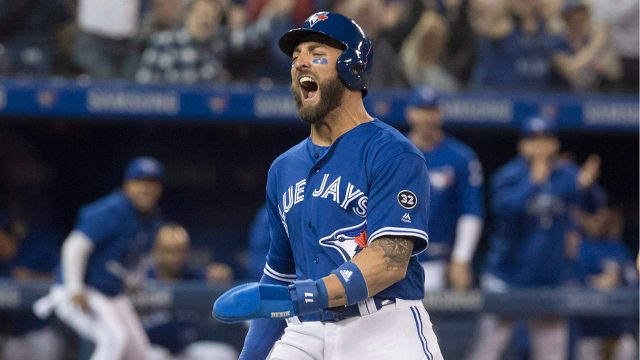 ST. PETERSBURG, FLA. — Entering Wednesday's play, the Toronto Blue Jays had scored four runs or less in 41 of their 67 games this season. They had won exactly five of those contests — a .122 winning percentage.
That's not good. But Wednesday presented a terrific opportunity to improve that unfortunate statistic. Toronto's starter was solid, as J.A. Happ threw five scoreless innings. It's bullpen did exactly what it's supposed to do, pitching three scoreless innings of relief. Toronto's offence generated opportunity after opportunity, putting runners on base in each of the first five innings. All they needed was a couple runs.
But they never came. The Blue Jays wasted not only all those chances with runners on, but a typically strong outing from Happ, as the Tampa Bay Rays walked it off in the 9th, scoring the game's only run and completing a three-game sweep. Matt Duffy came through with the winning swing, grounding a single to left off Ryan Tepera to score Mallex Smith, who reached on a one-out double earlier in the inning.
Happ battled control issues at times — he walked three for only the fourth time in 14 starts this season — missing up with fastballs and away with change-ups to right-handed hitters.
But when he was in the zone, the Rays never squared him up, mustering only a soft third-inning single to go along with their three walks over Happ's five innings.
Really, Happ should have pitched much deeper into this game. But his first inning was a tedious one, as he threw 30 pitches — including 10 in a pesky plate appearance by Jake Bauers, who fouled off seven consecutive pitches before reaching on an error — which helped get him to 98 by the end of the fifth.
And, really, Happ should have come away with a win. But the Blue Jays offence couldn't find a barrel with men on base, going 0-for-7 with runners in scoring position.
Oh, the opportunities they squandered. Facing Rays starter Wilmer Font, the Blue Jays put two runners on with one out in the first, but Yangervis Solarte and Kevin Pillar couldn't come through with a hit.
In the second, Toronto had two runners on with none out, but Aledmys Diaz flew out before Gio Urshela grounded into an inning-ending double play. Curtis Granderson's lead-off double in the third was also stranded before the Blue Jays again put two runners on in the fourth.
Can you guess what happened next? Urshela hit a weak pop up to end the inning, as the Blue Jays stranded their sixth and seventh runners.
We can go on. Granderson led off the fifth with his third single of the night, and was quickly erased when Justin Smoak hit into a double play. Teoscar Hernandez came through with a well-struck single after that, but was ultimately forced out at second as Solarte hit a groundball a pitch later.
That was the beginning of a run of nine consecutive outs for the Blue Jays, lasting …read more
Source:: Sportsnet
(Visited 5 times, 1 visits today)