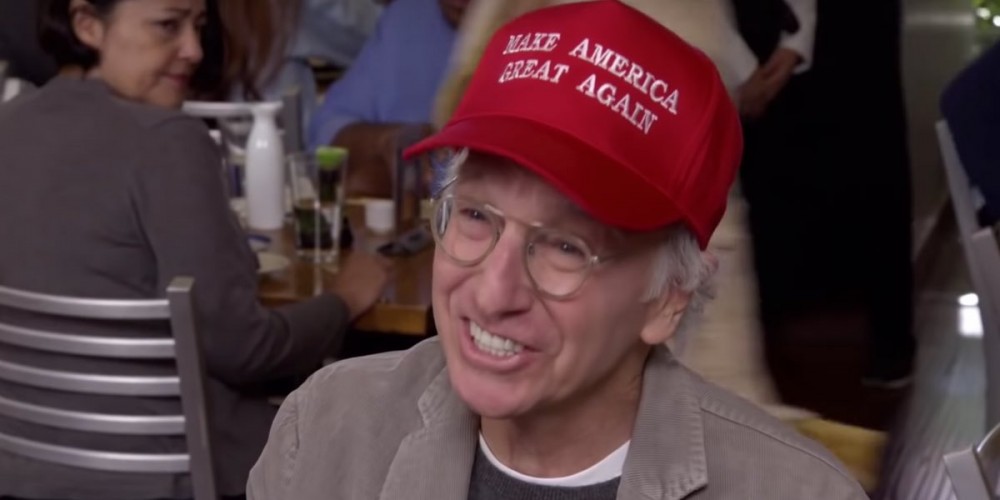 Donald Trump retweets disturbing images, lies. He's retweeted and deleted a tweet that names the alleged whistleblower, and shared what is most likely an image taken by a classified satellite or drone over Iran. He does it to stoke his base, to rile up his detractors and because he's reckless and doesn't care about consequences. So far, he's managed to avoid them for his egregious behavior.
Every once in a while, though, one of his tweets causes a reaction that he probably was not expecting. This week, for a bit, it was laughter, because on Monday night Trump shared a scene from Curb Your Enthusiasm that was mocking his supporters, though he didn't appear to realize this. He tweeted, "TOUGH GUYS FOR TRUMP!" along with the clip. As of Wednesday morning, it's still available.
TOUGH GUYS FOR TRUMP! pic.twitter.com/DbjZjGzLWU
— Donald J. Trump (@realDonaldTrump) February 11, 2020
Here's an explanation in case you can't watch it:
On Monday night, President Trump tweeted an expletive-riddled scene from the HBO hit show Curb Your Enthusiasm in which Larry David, playing a caricature of himself, puts on a MAGA hat to de-escalate a potentially dangerous situation. In the scene, David nearly hits a motorcyclist with his car and the man immediately starts threatening violence. David puts on the hat and the man, presumably seeing a kindred spirit, no longer wants to hurt David, just telling him to be more careful before riding off.
But the president may not have been aware that the point was actually to mock his supporters. In an earlier scene, David gets the idea to use a MAGA hat as a way to get out of having lunch with an acquaintance after his manager Jeff Green (Jeff Garlin) refuses to golf with a Trump supporter.
[From Yahoo!]
And Twitter had a field day, as it well should have:
I can only imagine Larry David being delighted at Trump being fooled by this bit https://t.co/FHGcsJtsgw
— Andrej (@AndrejNkv) February 11, 2020
Imagine thinking the guy on the motorcycle is tough because he's bullying an old man.
But here we are.
— Angela Belcamino (@AngelaBelcamino) February 11, 2020
satire is dead https://t.co/fyKPKH7WA1
— braden graeber (@hipstermermaid) February 11, 2020
Trump advisors debating whether or not to tell him why Larry David is wearing the MAGA hat in that episode pic.twitter.com/HXK2EQIAhK
— Andrew Moses (@AndrewMosesDuh) February 11, 2020
Larry David has made it very clear (with NSFW-language) exactly what he thinks about people who wear MAGA hats.
Is this funny? Absolutely. However, it's also really jarring, too, because Trump, who is incredibly thin-skinned and can't stand being laughed at, obviously does not understand the joke. He does not recognize satire. He does not realize that he and his supporters are being mocked, or he doesn't care, which is still terrible. Wanda Sykes told Stephen Colbert, "It's not normal that I …read more
Source:: Cele|bitchy
(Visited 1 times, 1 visits today)