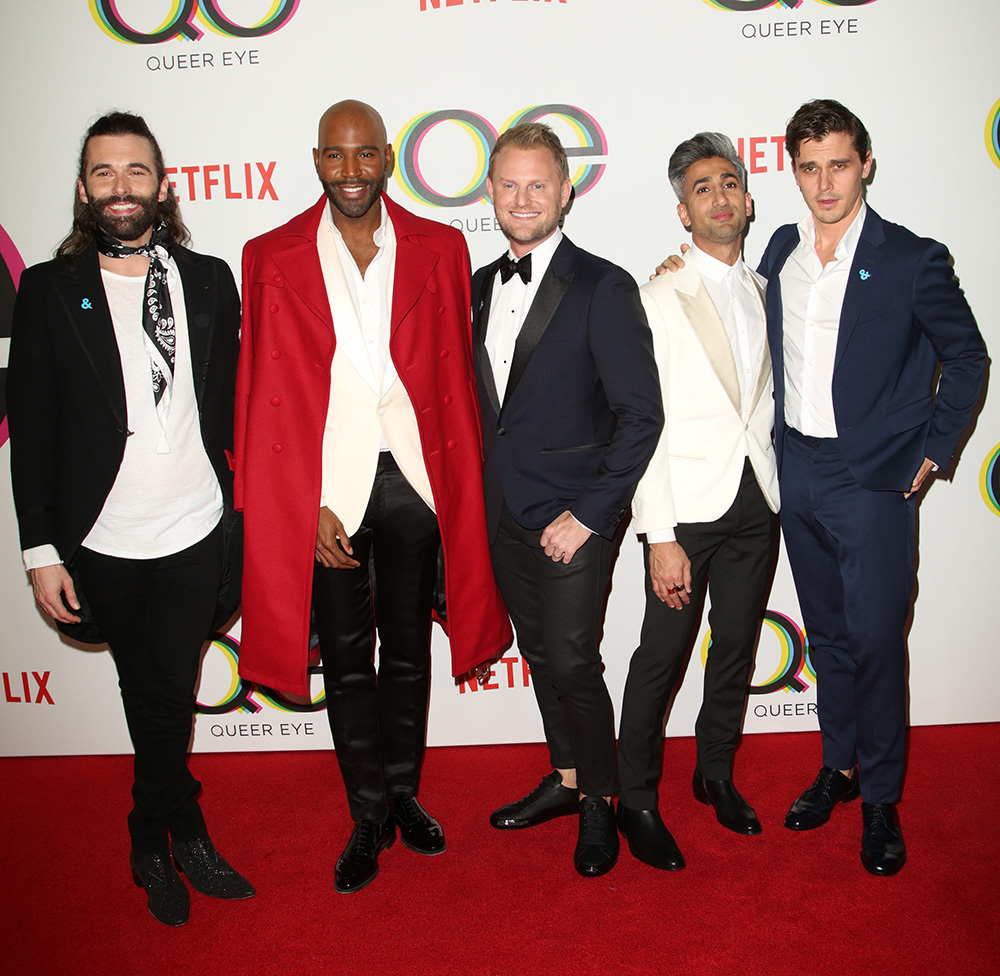 Embed from Getty Images
Looks like I'm canceling my plans for the weekend, as Netflix is releasing the complete, eight-episode second season of Queer Eye on Friday. The reboot of the popular show that ran from 2003 to 2007 debuted in February and was a huge success, thanks to the "Fab Five," Karamo Brown, Tan France, Antoni Porowski, Bobby Berk and my beloved Jonathan Van Ness. The show, originally titled Queer Eye for the Straight Guy is still in my hometown of Atlanta and is introducing its first female and trans "heroes" this season. Check out the trailer and try to maintain a dry eye. I dare you.
The guys, sans Jonathan (the "fine four"?) chatted with Buzzfeed in advance of the season and offered valuable advice to fans. Pretty solid stuff.
Karamo on self-care:
It's not as hard as you actually think. A lot of moments in life, especially during your lunch breaks, we find ourselves doing the same mediocre things. But actually what you need to be doing is exploring the world around you. Instead of sitting at your desk or the cafeteria eating, go out eating in the park, go to a museum and eat your lunch in the museum. That way you're taking time for yourself, you're actually exploring the world, and you'll feel better.
Tan on updating your style on a budget:
You can go to a thrift store, and keep it really limited. Go with a plan in mind, figure out what is appropriate for your wardrobe based on your style. We have loads of wicked vintage stores in England. You can find stuff that is so unique, that you're not going to find anywhere else. Go for stores like that.
The guys on getting over a breakup:
Antoni: You can start off by making a big fat mac and cheese. Just having a little moment with yourself, light a candle, watch a show you really like. Let yourself wallow and go through the emotions. It is important to check in with friends as well, so that you don't stay lonely and have your bestie come over with a pint of nice ice cream or your favorite dessert. If you gotta get a little drunk, go ahead and do a little bit of that. Whatever your process is, but try to keep it within the bounds of some semblance of normalcy. Or buy a puppy – a puppy would cheer anybody up! That's all I got, guys.
Bobby: After you wallow like that, use that time you would have spent with that significant other to do a bit of self-care. Reflect on yourself and do things that make you happy and not worry about them.
Karamo: I'm always good for a list. After a breakup, I like to write down the parts of my self-esteem that were affected by that breakup. Because sometimes the issues we have in our minds get bigger and bigger if we don't address them. And sometimes just putting them on paper and …read more
Source:: Cele|bitchy
(Visited 4 times, 1 visits today)