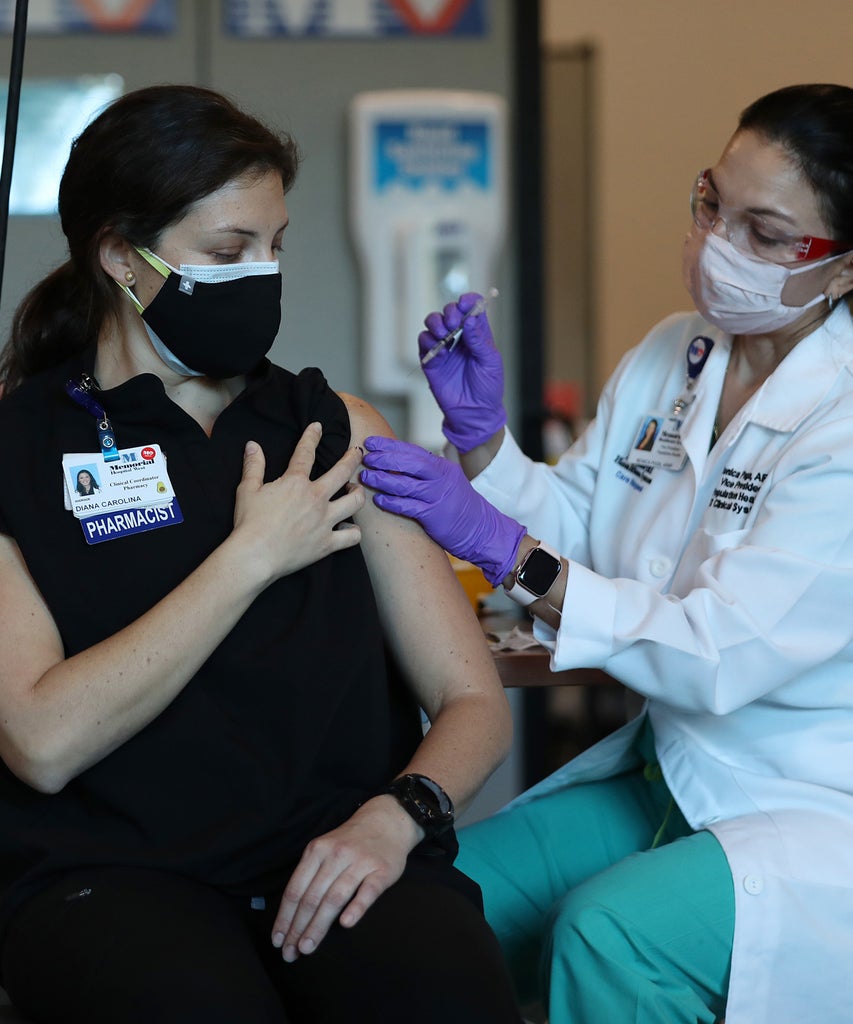 MIRAMAR, FLORIDA – DECEMBER 14: Diana Carolina, a pharmacist at Memorial Healthcare System, receives a Pfizer-BioNtech Covid-19 vaccine from Monica Puga, ARNP at Memorial Healthcare System, on December 14, 2020 in Miramar, Florida. The hospital system announced it will be vaccinating their frontline workers that are in contact with COVID-19 patients. (Photo by Joe Raedle/Getty Images)
In light of the contagious Delta variant, an uptick in COVID-19 cases, and dwindling vaccination rates across the U.S., there's been more and more discussion and debate about the ethics — and efficacy — of vaccine mandates. Companies, including some airlines, are requiring that employees get vaccinated before entering the workplace, and many schools and colleges are also mandating students get jabbed. But 18 months after the first confirmed case of COVID in the U.S., is it time for something more drastic?
While some critics are frustrated that President Joe Biden hasn't done more in favor of vaccine mandates (on July 6, White House Press Secretary Jen Psaki said that the administration has no plans to encourage schools and companies to require vaccination), Dr. Anthony Fauci has pushed for more local mandates, but not a federal one. As The New York Times points out, it's mostly up to states, local governments, and private companies to make these kinds of decisions. What, then, would it take to get more local vaccine mandates in place? And more importantly, would they help us flatten the rate of infection in the U.S.?
Although COVID-19 is an unprecedented crisis, a vaccine mandate is would hardly be a novel concept, especially for American public school students. When it comes to schools, states — rather than the federal government — set vaccination requirements, all with different regulations and reasons for exemption. In 15 states, for example, students can sidestep a vaccination if they have "moral and ethical" concerns, while all 50 states allow exemptions for medical reasons, like weak immunity or allergies. 
According to Dr. William Schaffner, MD, a professor of preventive medicine and infectious diseases at Vanderbilt University Medical Center, "We obliged essentially all of our children to be vaccinated against a whole series of diseases, most of them viral diseases." When this is done, he tells Refinery29, "you can essentially eliminate diseases from whole populations."
Dr. Schaffner cites measles, mumps, and German measles, also known as rubella, as examples of mandated vaccine efficacy. And while COVID, much like the flu, has mutations that may be endemic, he still believes that vaccine requirements might be the next frontier. "We don't expect that to happen with COVID — these are spectacular vaccines, but they're not able to eliminate a disease completely," he says. "But they are able, through widespread use, to really profoundly reduce transmission."
Historically, vaccine mandates — when they are in effect — have proven to work. In fact, one way you …read more
Source:: Refinery29
(Visited 4 times, 1 visits today)

Stock Market: Suez Canal Update! Floating!



The Suicide Squad | Official IMAX® Red Band Trailer



From the horribly beautiful mind of James Gunn and filmed in IMAX. Experience