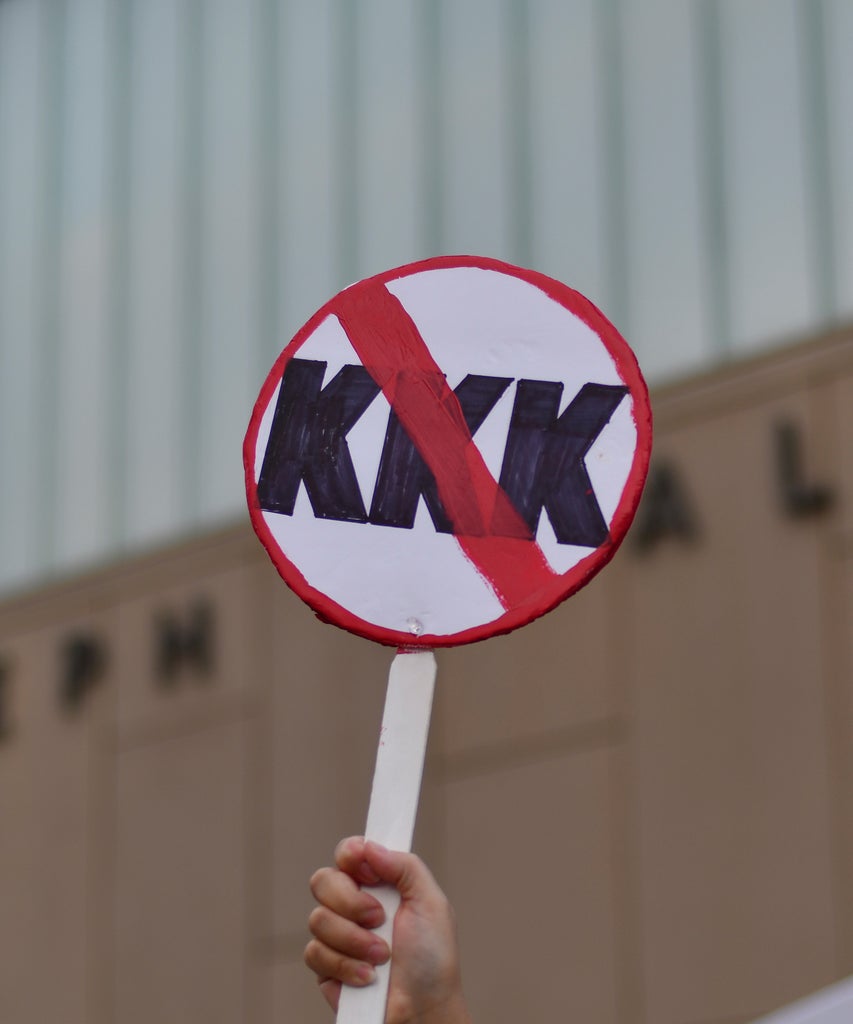 A banner anti KKK is seen during march Against Hate Held In Philadelphia In Wake Of Charlottesville, on August 16, 2017. Demonstrations are being held following clashes between white supremacists and counter-protestors in Charlottesville, Virginia over the weekend. Heather Heyer, 32, was killed in Charlottesville when a car allegedly driven by James Alex Fields Jr. barreled into a crowd of counter-protesters following violence at the Unite the Right rally. (Photo by Bastiaan Slabbers/NurPhoto via Getty Images)
In another legal attempt to push back against "Critical Race Theory" the Texas Senate voted on Friday to end a requirement for educators in public schools to teach their students that the Ku Klux Klan is "morally wrong." The proposal stated that the history of white supremacy, which includes American slavery, eugenics, and violence carried out by the KKK cannot be taught in a way that suggests this history is immoral, HuffPost reported. 
The suggested provision is part of Senate Bill 3, which passed in the Senate on Friday by 18 votes to 4. If passed, the bill would also remove a mandate that requires educators to teach about the Civil Rights movement, Native American history, and the Chicano movement. Further, Martin Luther King, Jr.'s "I Have a Dream" speech and the works of figures like United Farm Workers leader Cesar Chavez and suffragist activist Susan B. Anthony, would also be dropped from the public school curriculum.
Friday's vote was an amendment to a bill that passed in June, which attempted to prohibit critical race theory from being taught in schools. While the legislation doesn't mention critical race theory by name, Texas Republicans are clearly using it in an attempt to censor teachers from engaging students in difficult discussions about race and racism when teaching U.S. history and civics. 
"Teachers should not be censored from educating students about our history, no matter how inconvenient elected officials find it to talk about race," the American Civil Liberties Union of Texas said in a tweet.
Opponents of the bill called it "anti-civics" education, and say it could discourage important conversations in the classroom about historical and cultural issues that continue to impact current affairs, the Dallas Morning News reports. 
"How could a teacher possibly discuss slavery, the Holocaust, or the mass shootings at the Walmart in El Paso or at the Sutherland Springs Church in my district without giving deference to any one perspective?" Democratic Sen. Judith Zaffirini asked.
Democratic State Rep. James Talarico, who successfully helped block the original bill in May was disappointed to see it revived last week. "The amendments the House added were essential to ensure that we were teaching students all of American history — the good, the bad, and the ugly," he told the Texas Tribune. "They were …read more
Source:: Refinery29
(Visited 3 times, 1 visits today)

Stock Market: Suez Canal Update! Floating!



The Suicide Squad | Official IMAX® Red Band Trailer



From the horribly beautiful mind of James Gunn and filmed in IMAX. Experience